04/03/2021 9:00 am - 04/03/2021 5:00 pm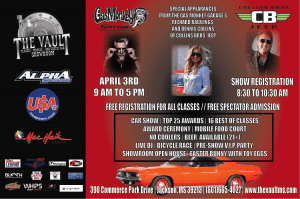 The Vault's 390 Car Show will be held on April 3 in Jackson, MS
Come attend the hottest Car Show in the South!
Enter your ride for the chance to win amazing prizes, bring the kids for bicycle races and the Easter Bunny, and have a good time with your family, friends, and community!
The Vault presents the 390 Degree Car Show in Jackson, Mississippi. Located in the fantastic Fondren District, come see one of the largest indoor collector car showrooms. OVER 150 Classic, Muscle, Exotic, Pre-War, Modern Collector cars on sight during the show. It's free to enter the show and free to look around. Special Guest appearances by Richard Rawlings, Dennis Collins and JD Pass, seen on Gas Monkey Garage. Top 25 awards and 16 specialty awards are up for grabs. Kids can enjoy power wheel races, bicycle races, the Easter Bunny and toy filled Easter Eggs. *REGISTRATION BEGINS SHARP AT 8:30 – 10:30 AM!
ABOUT THE VAULT
Over the past several years, the Vault has become the South's premier classic car dealer and classic car auction. Since 2018 we have delivered more than 400 cars to happy customers. Our 100,000 sq. ft. showroom and restoration shop holds more than 50 of the highest quality classics . The Vault is dedicated to delivering your dream to your garage and brining you the full value of your classic when it's time to sell.
Huge shout out to our title sponsor
Alpha Specialties of Pearl, MS
Mack Haik Chrysler / Dodge / Jeep/ Ram / Fiat
Other sponsors include:
BLKMTN (BLACK MOUNTAIN JEEP PARTS)
SUPPORT FROM
Hinds County Sheriff's Office and Sheriff Lee Vance
If you would like more information on the show please give us a call at 601-665-4027 or send us an email at thevaultms@gmail.com
Need A Place to Stay
We hope to see you at our event April 3, 2021 at The Vault!!!
Want to attend our 390° Car Show on Apr. 3, but have to travel to do so? We have a special rate for you! The Residence Inn by Marriot located in the upscale District of Eastover has a special rate of $129 for a Studio King Suite for anyone who needs a room.
You must reserve by Mar. 26 to take advantage of this great deal at a great hotel!
ONLY 10 ROOMS AVAILABLE!!!
Call Barbara Young for more information at (601)-362-8003
Register Here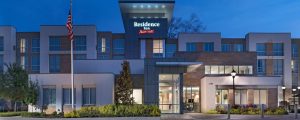 Find your way around the day of the show
Here's a simplified map of our show grounds as well as special driving instructions to help you navigate the show easily and safely.
– All traffic should enter off West Mitchell Avenue and Commerce Park Drive entrance beside Specialty Metals Inc, across from Jackson Bolt and Screw. *SIGNS WILL BE CLEARLY MARKED WITH THE WORDS CAR SHOW*
– Car Show entries will enter under the created archway at the intersection of Commerce Park Drive and Lorenz Boulevard *REGISTRATION WILL BE SETUP AT THIS ENTRANCE*
– Spectators will need to park on the street along Lorenz Boulevard. *PLEASE DO NOT ENTER UNDER THE ARCHWAY IF YOU ARE NOT ENTERING YOUR VEHICLE*
– Parking attendants will direct you to the next available parking area *PLEASE FOLLOW THE DIRECTIONS GIVEN BY THE PARKING ATTENDANTS WEARING NEON VEST*
– All food and beer trailers will be at the west corner of Commerce Park Drive and Lorenz Boulevard.
– Restrooms will be located by the main entrance of The Vault.
*PLEASE USE SUPPLIED RESTROOMS*
**INTERIOR RESTROOMS WILL NOT BE AVAILABLE THE DAY OF THE SHOW**
– All activities such as Bicycle Races, Power Wheel Races, Awards, and other daily activities will take place in front of the, centrally located, main stage.
Secure trailer parking is available behind our mobile food court, off of Lorenz Boulevard.
*PLEASE TRY AND EXIT ALL VEHICLES ON THE EAST END OF COMMERCE PARK DRIVE AND STONEWALL STREET*
HOW TO GET TO THE VAULT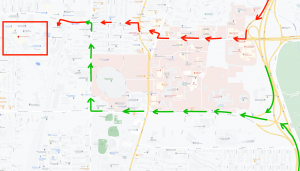 We strongly recommend taking the red route on I-55 to the Lakeland Drive exits to all spectators and those participants driving their cars to the event.
ALL people hauling trailers should take the green route on I-55 to Woodrow Wilson Avenue to N. West Street. This allows for wider turns.
Avoid Mill Street and further north of N. West Street as they are highly industrial areas prone to construction and aren't recommended for non-commercial driving.
In the event of a train, take the alternative blue route back onto N. West Street onto Woodrow Wilson then turn onto Bailey Avenue to Stonewall Street.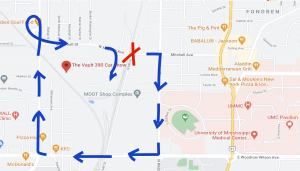 Take a look at our show categories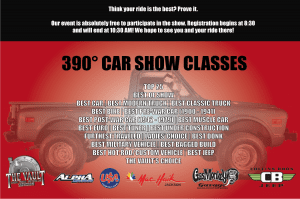 CALLING ALL CAR CLUBS!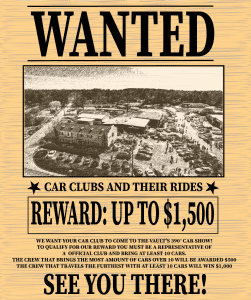 Missed JD's Bounty Live? Well here it is!
CALLING ALL CAR CLUBS NEAR AND FAR!
You club could earn a reward from The Vault's 390° Car Show on April 3rd! To qualify, your official car club must bring at least 10 cars.
The crew who brings the most cars wins $500 and the crew who has at least 10 cars while traveling the furthest wins $1,000.
If your club travels the furthest AND have the most cars, you'll take all $1,500!
Registration for the show begins the day of at 8:30 am and last until 10:30 am SHARP!
Call us at (601)665-4027 for more information on the event, class rewards, or lodging for the weekend!
JOIN US APRIL 3